Welcome
Hello!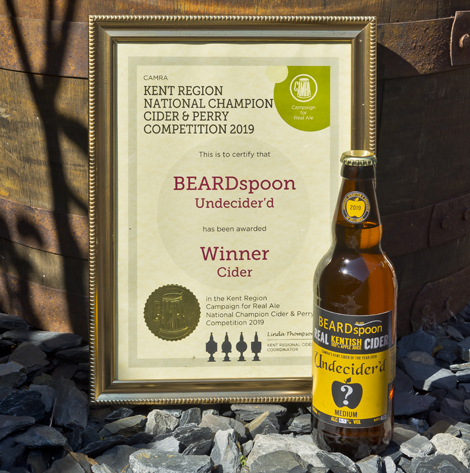 BEARDspoon Real Kentish Cider, a small award winning Artisan Real Cider maker based in Sellindge, Kent. We produce our Cider not for profit but for the enjoyment of others and to spread the word about Real Cider and its Apple'y Goodness!

Real Cider is nothing like the chemical rich 'glucose wines' sold in major supermarkets and pubs, real cider uses 100% apple juice fermented naturally (usually by the apple's own wild yeasts) with no added chemicals.
Our Cider is hand pressed using traditional Kentish grown eating and cooking apples including Bramley, Grenadier, Howgate Wonder, Discovery and Russet. The majority of these are handpicked by ourselves from little used organically grown standard-size trees, allowing us to use only the very best fruit. We've more recently also got our hands on a couple of Cider Apple Varieties, Dabinett and Michelin to play with! The entire process is done by our own fair hands, from picking to pressing and then as the juice ferments through the winter months racking, blending and Bottling! - A Truly Artisan Cider

We supply our Real Cider to pubs, Festivals and local produce shops in various size Bag in Boxes and 500ml bottles. Unfortunately we only supply wholesale and not to the general public.

If you would like more details on prices and availability, please email us.