BEARDSpoon Cider is all about the taste and purity - with over 5 years of experience crafting the most tantalisingly tasting tongue twisting Cider, using nothing but the highest quality Kent apples, we have perfected a unique and refreshing flavour sought after across the country.

Our endeavours have been recognised by Cider drinkers nationally by awarding us on an almost yearly basis since we began our adventure. It is an honour to recieve these awards (detailed further on the About page) but the true test comes with your first sip. Interested? See what we've been working on below.

All our ciders are available in 10l and 20l Bag in Boxes or in cases of 12 x 500ml bottles - please be aware we are currently wholesale only.


Ciderfect
Taste: Medium
ABV: 6%

Our first and award winning Real Kentish Cider, crafted from 100% Bramley Apples.

Bramleys are a classic sharp cooking apple which loses little of its character when used for Cider, creating a refreshingly sharp and clean looking drink for the Summer months.

Our Bramleys are like no others you've tasted before, they truly have a unique flavour all on their own allowing us to make a one-of-a-kind 100% Bramley Kentish Cider!

Tasting Notes
A medium single variety packed with a sharp refreshing tang and unique full bodied sweet-shop Apple flavour.

Undecider'd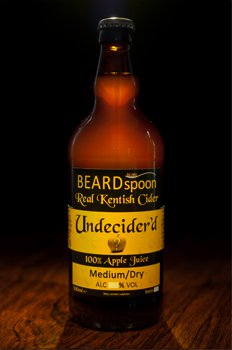 Taste: Medium Dry
ABV: 6.5%

Our first blend of classic English apples has created our strongest and most robust cider.

At it's maiden event it achieved 3rd place in the Kent Region of the CAMRA Cider Competition at the Planet Thanet Easter Beer Festival!

With a sharp tang from the Bramleys, deeper body from the Russets and a sweeter note from the Discoverys, next time you're at the Cider Bar you won't be Undecider'd

Tasting Notes:
A naturally strong Medium-Dry blend with an initial sharpness followed by a good body and a hint of sweetness.

KC Tribute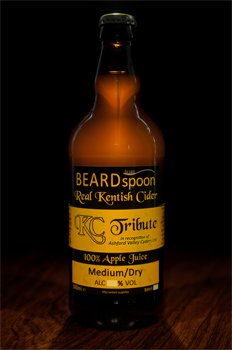 Taste: Dry
ABV: 5.5%
A special blend in recognition of Ashford's long-gone Cider maker Ashford Valley Cyders ltd.
Produced in 'The Cyder Factory' on a site adjacent to Ashford's Domestic Railway station between 1948 & 1964, their most successful blend was the Prizewinning 'KC Cyder' which ours hopes to echo.


Tasting Notes:
A smoother and slightly thinner Dry blend of strong apple flavours with a hint of the classic Kentish sharpness.